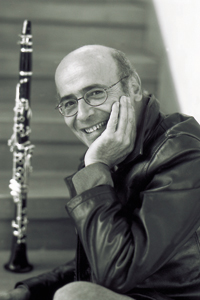 has performed with renowned conductors such as Seiji Ozawa, Zubin Mehta, and Pierre Boulez. He has served since 1989 as professor of clarinet at the renowned Conservatoire National de Musique de Paris, the same school he had also attended in the 60's, winning first price in both clarinet and chamber music there. During his career, he has worked extensively with the pre-Mozart clarinet repertoire, such as Stamitz and Molter, and also the contemporary repertoire created by Bério, Stockhausen, Louvier, Grisey, Fénelon, Singier, Burgan, and Finzi.
"My love for music comes to me from my family," said Arrignon. "My grandfather was a clarinetist; my father was a violinist. I entered the Conservatoire de Paris at age 16, and I was awarded the first prize for clarinet in 1966." Arrignon's teachers included Ulysses Delescluse and Fernand Oubradous.
He also completed advanced training in chamber music with instructor Pierre Pierlot.
"At the urging of my teacher, Mr. Delescluse, I went to study in the United States at Michigan University," said Arrignon. "This experience was extremely valuable. I was immediately appreciative of the quality of instruction and the professional character of the American schools I saw. Moreover, even though I like to say that I am a fervent defender of the French schools, I strongly encourage my students to seek this type of experience abroad." Arrignon also studied at Interlochen Arts Academy in Michigan.
After Arrignon's return to France, Arrignon joined Musique Vivante, a group which performed contemporary music. He then became a member of the Ensemble Intercontemporain, created by Pierre Boulez. Arrignon devoted himself for seven years to the study of the 20th century repertoire. "I want to stress that the 20th century works hold some unique masterpieces," he said. "I also did a lot of recordings, of Schoenberg, Stravinsky, Brio, Fenelon, and other composers. This period was very rich in creativity for me, and I must say that working with Pierre Boulez taught me about becoming a true professional, which is an invaluable lesson."
Arrignon was also appointed solo clarinetist with the Paris Opera Orchestra in 1984. "This appointment brought to me some valuable opportunities of performing with the best conductors, people like Ozawa, Boehn, Stein, and Makerras," he said. "I continued as soloist there, and in 1989 I received the appointment as professor of clarinet at the Paris Conservatory.
"Since I enjoy teaching so much, I am presently concentrating on that, and I have conducted numerous masterclasses throughout the world. I find that talented students are highly sought after today, and their course of study is getting longer and more concentrated. I think it is vital for me, as their professor, to maintain the exceptional level of the French school, and to help prepare these young musicians for their professional lives." Even though he spent considerable time with some of France's most notable ensembles and opera professionals, seven years with the Ensemble Intercontemporain and five years with the Opera Orchestra, he is pleased with his career's natural gravitation towards solo work and teaching. "Yet it still gives me great pleasure to perform with an orchestra," he said.
You might say that the highest goal of Arrignon's teaching is to transmit those qualities, and above all, the acute awareness of interpretation to his students. "At the Conservatory, the level of study is very high, and students work a lot on their technique," he said. "The most difficult thing is to make them aware of the importance of interpretation. This task is a daily exercise, a constant search. Everything is concrete, anything can be practiced, but the difference between a good performance and a great one is achieved when a work is given a very personal interpretation… [Music] is a real and very demanding profession, but one that is lived with passion. I urge all young musicians to work at their art, for in doing so they will find the satisfaction of practicing a profession that they enjoy."