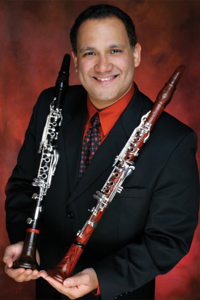 He Born 1972, was appointed principal clarinet of The Philadelphia Orchestra by Wolfgang Sawallisch in 2002 and joined the Orchestra in 2003. Prior to this, he was principal clarinet of the Metropolitan Opera Orchestra, a position he assumed at the age of 21 under the direction of James Levine. He has also served as principal clarinet of the Florida Symphony.

A native of San Juan, Puerto Rico, Mr. Morales began his studies at the Escuela Libre de Musica along with his five siblings, who are all distinguished musicians. He continued his studies at the Cincinnati Conservatory of Music and Indiana University, where he received his Artist Diploma.
He has been a featured soloist with many orchestras including The Philadelphia Orchestra,
the Metropolitan Opera Orchestra, the Chicago Symphony, the Cincinnati Symphony, the Indianapolis Symphony, the Flemish Radio Symphony, the North Carolina Symphony, the Puerto Rico Symphony, the Florida Symphony, and the Columbus Symphony, and at the Metropolitan Museum of Art Concert Series. During his tenure with the Metropolitan Opera Orchestra, Mr. Morales soloed under the baton of James Levine in Carnegie Hall and on two European tours. Subsequently, he made his solo debut with The Philadelphia Orchestra in 2004 with Charles Dutoit at the Saratoga Performing Arts Center, and performed as soloist in 2005 with Christoph Eschenbach in Verizon Hall.

An active chamber musician, Mr. Morales has performed in the MET Chamber Ensemble series at Carnegie's Weill Recital Hall with James Levine at the piano, at the Santa Fe Chamber Music Festival, the Saratoga Chamber Music Festival, the Kennedy Center, on NBC's The Today Show, and with the Chamber Music Society of Lincoln Center. Mr. Morales is highly sought after for his recitals and master classes, which have taken him throughout North America and Europe. In addition, he currently serves on the faculties of the Juilliard School and Temple University.

Hailed by the New York Times as having "… fleet technique, utterly natural musical grace, and the lyricism and breath control of a fine opera singer," Mr. Morales was also singled out in the New York Times review of the Metropolitan Opera's production of Berlioz's Les Troyens, when the paper described his playing as "exquisite" and declared that he "deserved a place onstage during curtain calls."

Mr. Morales's performances can be seen and heard on the numerous televised and radio broadcasts from the Metropolitan Opera Live from Lincoln Center series. His debut solo recording, French Portraits, is available on the Boston Records label. Mr. Morales has joined forces with internationally recognized master acoustician and instrument maker Morrie Backun to create MoBa, a company of top of the line clarinet accessories, including mouthpieces, bells, and barrels.